Quite your mind at the push of a button
PURPOSEFULLY DESIGNED WITH YOU IN MIND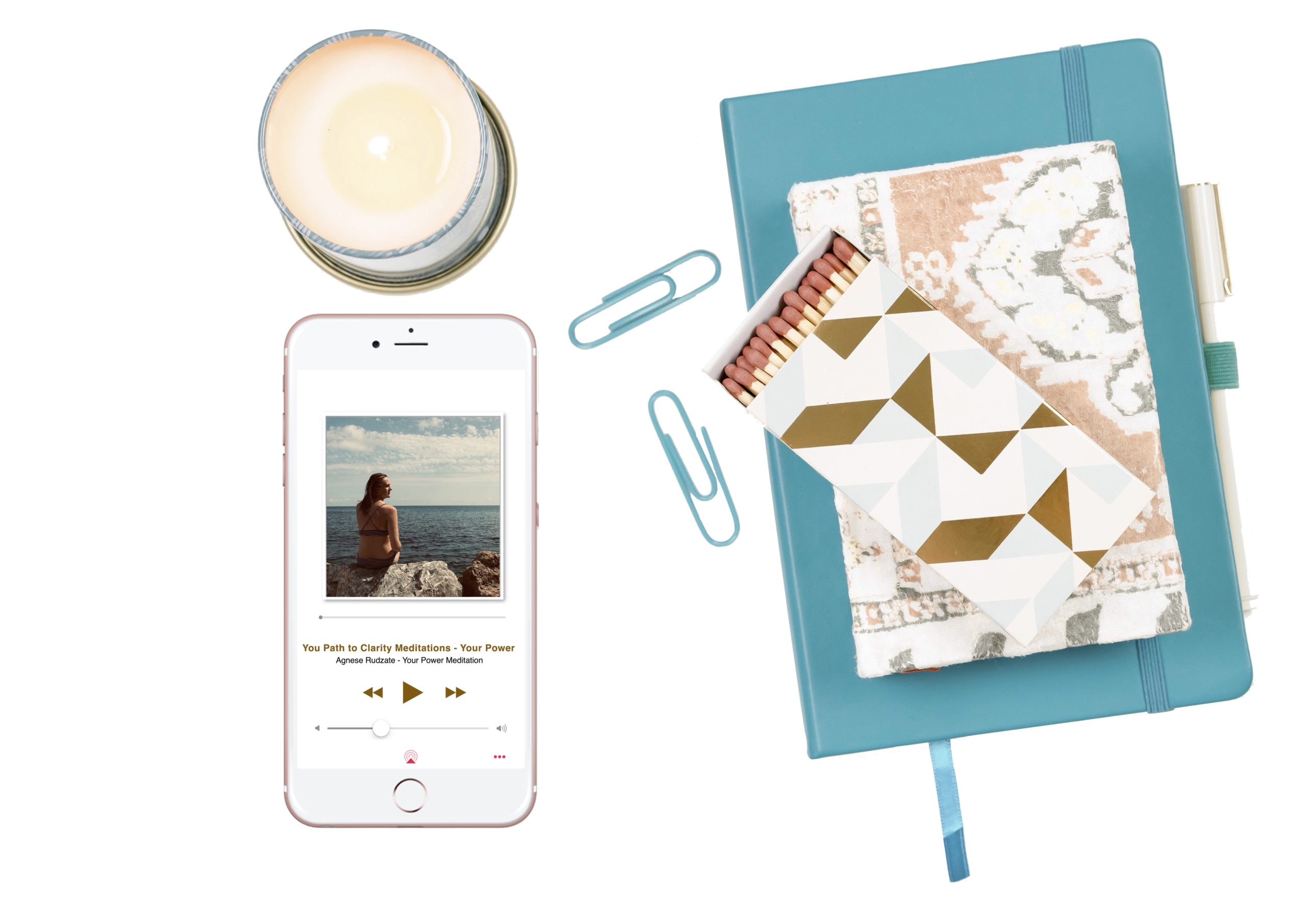 Your Power Meditation

Your Voice Meditation

Your Focus Meditation

Your Shift Meditation

Your Return Meditation

Your Space Meditation

Your Terms Meditation

Your Path Meditation

Your Freedom Meditation

Your Footprint Meditation
These unique tracks are engineered for you to meditate like a goddess and enjoy countless meditation benefits faster and much more effortlessly than you ever thought possible
Curios on how to meditate as deeply as a monk but save years of practice?
Im glad you're wondering..
4 Technologies in one unique ALBUM
These ancient 6-part electromagnetic musical tones have been used to deeply penetrate the conscious and subconscious mind, stimulating inner healing. Each Solfeggio tone has its own unique potential and it corresponds to the frequency of a specific energetic state.
396 Hz – Liberating Guilt & Fear
417 Hz – Undoing Situations & Facilitating Change (clears negativity and removes subconscious blockages)
528 Hz – Transformation & Miracles (stimulates love, restores equilibrium, repairs DNA)
639 Hz – Connecting, Strengthens Relationships
741 Hz – Expression/Solutions, Cleaning & Solving (physically cleanses the body from all types of toxins)
852 Hz – Awakens Intuition & Helps you Return to Spiritual Balance
Each meditation track focuses on a different Solfeggio tone for specific healing effect of that frequency. By exposing the mind and body to the Solfeggio frequencies, you can easily achieve a greater sense of balance, deep healing and keep your body, mind and spirit in perfect harmony.
Isochronic tones utilize a process known as brainwave entrainment, which influences brainwave activity to a more desired mental state. This means that your dominant brainwave activity is guided to a different frequency while you are listening to these tones, allowing you to influence and change  how you feel.
Stress or Anxiety Relief – When you are feeling stressed, agitated, anxious or angry your brain, low frequency isotonic tones will reduce those negative feelings.
Relaxation – When it is hard for you to truly relax, it can be even harder to reach a deeper state of meditation, especially for those new to meditation. Isotonic tones can help guide your brain to these deeply relaxing and enlightening mental states.
Increase Focus & Memory – If you are feeling tired, unmotivated and distracted, Isochronic tones can elevate your brainwaves up to a more optimal high focused state, and keep your mind there for the duration. They can also improve your ability to memorize and retain information.
Improving Sleep – When you're mind can't stop thinking, Isochronic tones can be used to get to sleep faster.
Energy & Motivation – Improve your energy levels and feel more alert – a great alternative to caffeine and energy drinks. 
A binaural beat is created by sending tones of a slightly different frequency into each ear, which results in the listener hearing a 'perceived' beat at the frequency equal to the difference between the two tone frequencies.
• reduce stress and anxiety
• increase focus, concentration, and motivation
• improve confidence
• improve memory
• deeper meditation
• enhance mood
Monaural beats are produced when two tones combine digitally or naturally before the sounds reach the ears, as opposed to combining in the brain (like binaural beats). It is a single pulsing beat and can be heard as a 'click' or pulse in the music.
Monaural beats help you getting access to the emotional states that you wish to be in.
The main benefits from listening to Monaural beats include healing, sleep, meditation, deep relaxation and stress relief.
These meditation tracks have all this taken into consideration, so when you use them you can feel assured of getting the greatest benefit possible for yourself.
Restore your body to a state of balance and harmony
These meditations are for you if you are seeking for:
Specific benefit: improving your health, wellness, performance, focus, memory, creativity, self-control, etc.

 

Growth: personal growth, emotional healing, self-knowledge,

self-discipline

,

letting

go

.
These specifically chosen techniques are combined in this unique, one of a kind meditation album to deepen your relaxation, focus and awareness faster than you ever imagined possible. 
396 Hz Solfeggio Frequency
Isochronic Tones
Binaural Beats
Specifically designed to lead you in to your power, this meditation gives you confidence and peace of mind to unlock your potential and move forwards guild and fear free. 396Hz frequency in combination with purposeful guidance liberates you to achieve inner freedom. Give yourself permission and choose to step in to Your Power to gain Calm and Confidence.
639 Hz Solfeggio Frequency
Binaural Beats
Monaural Beats
Take the power in your hands and liberate from low self-confidence to ease in to state of trusting the process and believing that universe has your back (always). Stop negative self talk, instead let yourself be purposefully led towards better self-awareness and realise Your worthiness. 639 Hz frequency in combination of purposeful guidance treats your inner critic with love to help gravitate towards truth and self-awareness as whole.
417 Hz Solfeggio Frequency
Isochronic Tones
Monaural Beats
This unique combination of 417 Hz Solfeggio Frequency that facilitates change and motivational guidance lets you easy in to trusting the process of your own path. Solutions will be provided on your own special way that is uniquely yours. Trust that your path will unfold in front once you take action towards your true purpose. Lean in to the guidance and cleanse traumatic experiences, clear destructive influences of the past. Enable yourself to achieve your life goals by cleaning limiting believes.
741 Hz Solfeggio Frequency
Binaural Beats
Monaural Beats
Your energy flows where your focus goes, so make sure you put attention towards your truth. Release from negative talk and low energy to expand and move towards goals. Lean in to this meditation and allow your focus to move the right way. Know what you really want and make sure your energy is flowing that way. 741 Hz frequency in combination with purposeful guidance is engineered to help you concentrate your energy and focus to what really matters to you. By using your unique creativity you can move towards better clarity, stability and realness.
417 Hz Solfeggio Frequency
Isochronic Tones
Monaural Beats
Be the change you want to see in world as whole, in your space and in your mind. Only you have the power to change yourself and make space around for serving your purpose. Start with your self, gain the strength and take guided action towards clarity and confidence. 417 Hz frequency in combination with purposeful guidance is engineered to help you find solutions by using your authentic creativity to better the space around you.
528 Hz Solfeggio Frequency
Isochronic Tones
Monaural Beats
Declutter the space around you and mind from unnecessary things and thoughts, because you deserve the freedom that it brings. Quite your inner critic, clear your negative self-talk to enjoy the worthiness it brings. 528 Hz Solfeggio Frequency in combination with purposeful guidance is engineered to help you cleanse your mind so you are able to focus on productively and efficiently reaching your goals. Surender to the guidance and let transformation and miracles manifest. Increase your clarity and awareness by leaning in to full body relaxation.
852 Hz Solfeggio Frequency
Isochronic Tones
Binaural Beats
Created specifically to motivate you reach further by awakening inner child and liberating form energy blocks. Your Return Mediation focuses on your awakening as whole and specifically your inner strength & self realisation. Let go of stagnate mental energy and stop yourself from over-thinking. Instead lean in to  clear and strong communication with your higher self to return stronger than ever.
528 Hz Solfeggio Frequency
Isochronic Tones
Monaural Beats
Surender to the guidance and let transformation and miracles come in to your life.  528 Hz Solfeggio Frequency increases your life energy, clarity of mind, awareness, inner peace so you can celebrate and dance to your inner music of pure happiness. Take time to vision your perfect space and trust that universe will provide. Celebrate your every win to achieve even bigger ones. Open up to changes and transform your home, mind and life.
741 Hz Solfeggio Frequency
Binaural Beats
Monaural Beats
Allow yourself to be purposefully lead towards problem solving by your creative expression on your own terms. Learn to trust the process and lean in to healthier and simpler life that provides stability and realness. Don't be afraid to express your true self and reach higher goals.
Your Footprint Meditation
852 Hz Solfeggio Frequency
Isochronic Tones
Binaural Beats
Ease in to the state of relaxation and surrender with your truth. Use your unique power, skill set, talents, your unique whole self to leave remarkable impact in the world. Your Footprint Meditation focuses on your uniqueness, inner strength and self-awareness. Created specifically to ground you by releasing stuck energy with clear communication to yourself. This is the time to let go of all blocks, trust the guidance and enjoy the results.
On top of each and every one of the know scientific meditation benefit that are worth this album alone, add purposeful guidance to get one of a kind meditation set that's pretty much priceless! I know as well as you do that experience is something that no one can take away – it's fully and truly yours, from beginning to the end. All you have to do is to show up and be consistent. That's all!
You should meditate for 20 minutes a day, unless you are really busy. Then you should sit in meditation for an hour.
PURPOSEFULLY DESIGNED WITH YOU IN MIND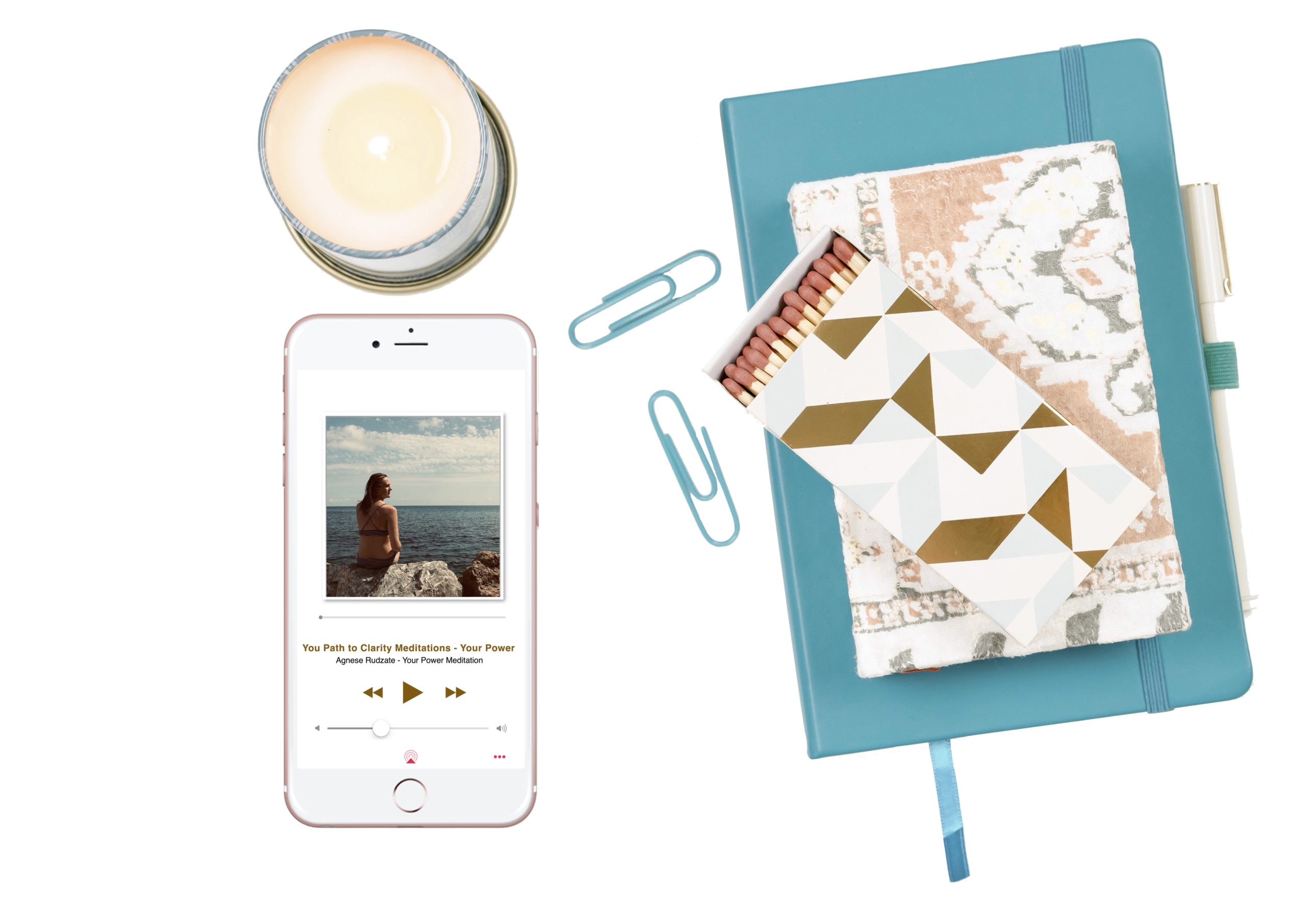 Your Power Meditation

Your Voice Meditation

Your Focus Meditation

Your Shift Meditation

Your Return Meditation

Your Space Meditation

Your Terms Meditation

Your Path Meditation

Your Freedom Meditation

Your Footprint Meditation
Agnese's guided meditations are a welcomed addition to my morning routines. With a variety to chose from, I can easily cycle through them all through the month. Her gentle voice, paired with relaxing music help shift me into a relaxed state of being in no time. I enjoy the 20min meditations before bed to help me unwind and drift off to sleep with positive messages floating in my mind. The metaphors and images she presents are creative, and effective to tap into the deeper subconscious mind...that place where our imaginations and ideas run wild, our desires come to life, and essentially, we go and make our dreams a reality. These practices are essential for staying in flow with work and family. Thankyou for sharing them with me, Agnese! You are a beautiful soul. xoxo Genevieve
Let this ancient practice transform your life and  lead you in to muscle relaxation, deep breathing, body stillness, mental calmness and introspection to gain clarity.
THIS UNIQUE MEDITATION ALBUM WORKS WONDERS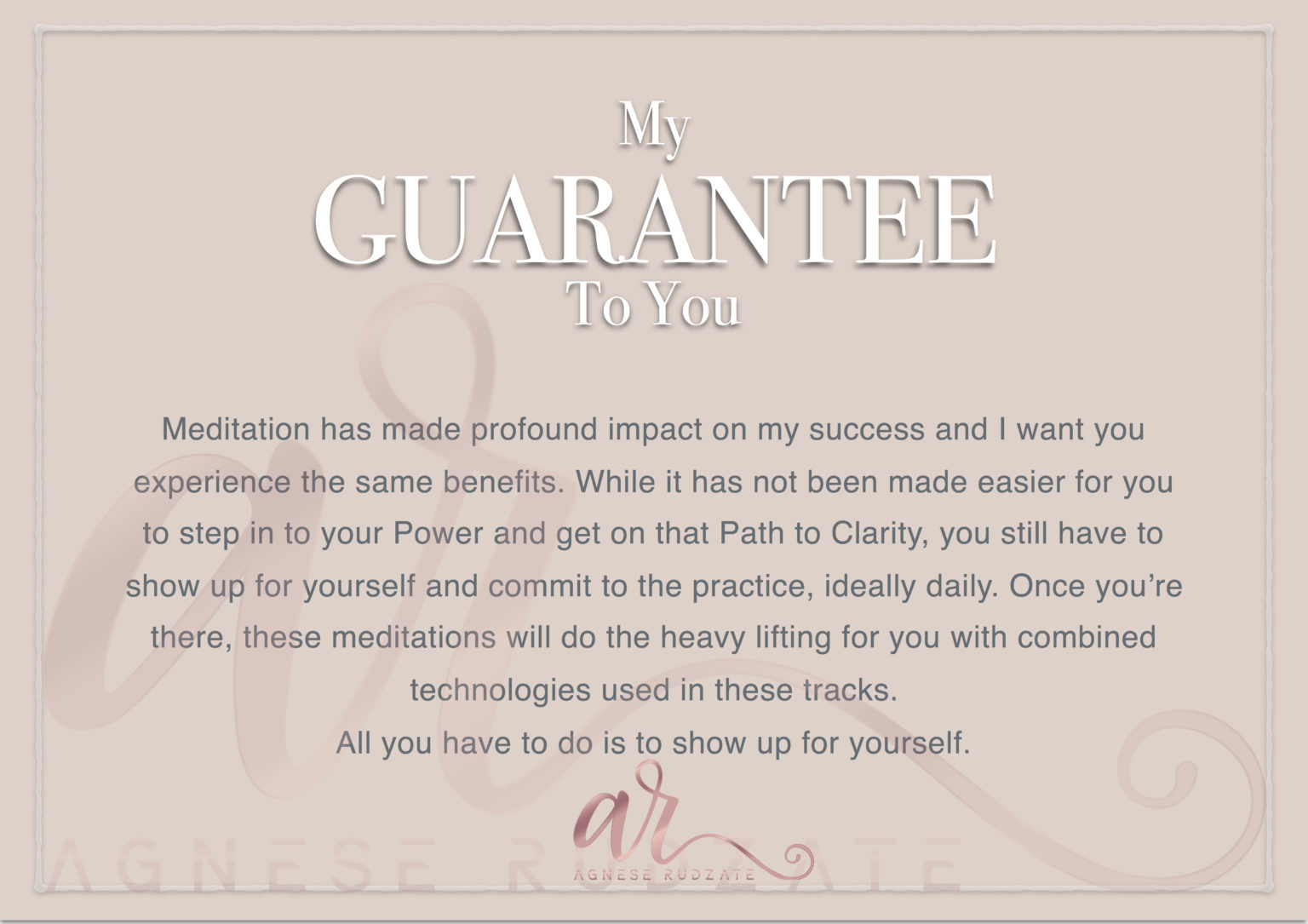 Agnese Rudzate is the Next Level success strategist for busy female entrepreneurs who want to work smarter not harder
. Combining mindset and strategy, she thrives to improve performance to work less. 
Agnese is a Certified Productivity Specialist, a Time-management expert with a professional background in Quality Management and Empowerment Coaching
.
She has turned her passion for organizing into her mission to help women get more productive in life and business
.
Through structure, systems, and processes that bring results, Agnese teaches her clients to scale in their business while increasing time freedom
. 
Agnese Rudzate is an advocate for "LESS IS MORE" approach to life, business, and mind.
As a certified and practicing Empowerment coach, she has seen women lacking guidance, clarity, and ease in their lives
. 
Taking her personal experience, client feedback, and passion for women empowerment, Agnese has created Clarity
Abundance
Meditations
. This album helps women step into their power, get inspired, motivated and clear in their path.